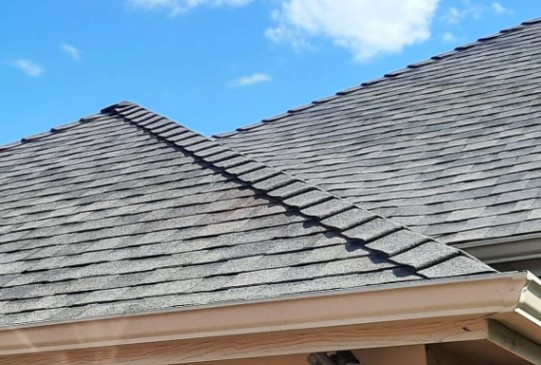 Looking for a reliable and trustworthy roofing company in Allen, Texas? Look no further than Allen Roofers! Whether you need a roof repair or a complete replacement, our team of experienced professionals has got you covered. With years of experience in the industry and a commitment to exceptional customer service, we're here to help with all your roofing needs. So why wait? Read on to find out more about what makes Allen Roofers the right choice for your next project!
Who Are We?
Allen Roofers is a locally owned and operated roofing company based in Allen, Texas. We specialize in providing high-quality roofing services to residential and commercial customers throughout the area. Our team of experts has years of experience working with all types of roofs, from asphalt shingles to metal panels.
At Allen Roofers, we take pride in our commitment to customer satisfaction. We know that your roof is one of the most important parts of your home or business, which is why we go above and beyond to ensure that every project is completed on time and within budget.
With a focus on quality workmanship and attention to detail, our team will work closely with you throughout the entire process to make sure that you are completely satisfied with the final result. From minor repairs to full-scale replacements, we have the knowledge and expertise needed to get the job done right.
So if you're looking for a reliable and trustworthy roofing company in Allen, Texas, look no further than Allen Roofers! Contact us today for more information or to schedule your free quote.
What Services Does Allen Roofers Offer?
At Allen Roofers, we offer a variety of services to meet all your roofing needs in Allen, Texas. Our team of experienced professionals is dedicated to providing top-notch service and quality workmanship.
Our services include roof repair, replacement, and installation for residential and commercial properties. We specialize in all types of roofs including shingle, tile, metal and flat roofs.
In addition to our roofing services, we also provide gutter installation and repair as well as skylight installation. We understand how important it is to have a functional gutter system that protects your property from water damage. That's why we use only high-quality materials when repairing or installing gutters.
We are committed to offering competitive prices without sacrificing quality. That's why we offer free quotes so you know exactly what to expect before any work begins. At Allen Roofers, customer satisfaction is our top priority.
Whether you need minor repairs or a full roof replacement, trust the experts at Allen Roofers for reliable and efficient service every time!
Why Choose Allen Roofers?
When it comes to choosing a roofing company, there are plenty of options out there. So why should you choose Allen Roofers? Here are just a few reasons:
Firstly, we have extensive experience in the industry. Our team has years of combined knowledge and skill when it comes to repairing and replacing roofs. We've seen it all and know how to handle any issue that may arise.
Secondly, we prioritize customer satisfaction above all else. We understand that getting your roof repaired or replaced can be stressful, so we aim to make the process as smooth and stress-free as possible for our clients. From providing free quotes to answering any questions you may have along the way, we're here for you every step of the way.
Thirdly, we use only high-quality materials on every job we do. This ensures that not only will your roof look great after we're done with it but also that it will stand up against harsh weather conditions for years to come.
But certainly not least: affordability is key! At Allen Roofers, we believe in offering competitive pricing without sacrificing quality workmanship.
Choosing Allen Roofers means choosing a reliable roofing company dedicated to excellent service at an affordable price point – what more could you want?
How to Contact Allen Roofers
Contacting Allen Roofers is easy and convenient. Whether you need to schedule a roof repair or replacement, or simply request a free quote, there are several ways to get in touch with their team of experts.
Firstly, you can visit their website at allen-roofers.com and fill out the contact form on their "Contact Us" page. In this form, you'll be asked for basic information such as your name, email address, phone number and reason for contacting them.
Alternatively, you can call their office directly at (214) 771-1946 during business hours to speak with one of their friendly representatives who will assist you in scheduling an appointment or answering any questions that you may have about your roofing needs.
If you prefer face-to-face communication or want an expert opinion on-site inspection of your roof's condition before getting started on repairs or replacements; Allen Roofers offer in-home consultations where they send out experienced professionals to assess your needs and provide estimates accordingly.
Regardless of how you choose to reach out to them – online inquiry forms, telephone calls ,or home visits – Allen Roofers aims always deliver exceptional service from start-to-finish!
Get Replacement of your Hail Damaged Roof

Conclusion
If you are in need of any roofing services, Allen Roofers is the company to choose. Their experienced team has a wealth of knowledge when it comes to all things roofing and will be able to assist with any issue you may have. From minor repairs to complete roof replacements, they offer a range of services that are sure to suit your needs.
What's more, their commitment to customer satisfaction means that they always put their clients first and strive for excellence in everything they do. You can trust them to provide high-quality workmanship at an affordable price.
Don't hesitate – contact Allen Roofers today for your free quote!